23.10. Diaty Diallo: Zwei Sekunden brennende Luft / Deux secondes d'air qui brûle, 7 p.m.
In the banlieues, the suburbs of France, social grievances such as inequality, discrimination and racism become visible as if through a burning glass: in a situation permanently heated by conflict, a spark created by an event is enough to ignite a fire of violence. Having grown up in one of the Parisian suburbs himself, Diaty Diallo knows all of this from his own experience and has processed it literarily in a novel of frightening topicality, whose poetic language is a rebellion against accepting these conditions.
Moderation: Elisabeth Arend
In German and French language
Admission
One of the German translators, Lena Müller, will be present
and be involved in the conversation with the author. In cooperation with
the Institut franҫais, the University of Bremen and the CaNoFF
(North Campus for France and Francophonie).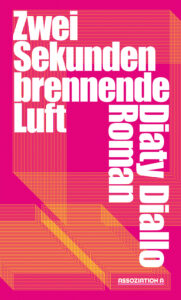 Institut français
Contrescarpe 19
D – 28203 Bremen