Get the Junge globale° to your school
Writing in the school and university context often means writing "correctly," writing purposefully, and accordingly is subject to a pattern of evaluation that can get in the way of open and creative expression. In our writing workshops and literary school labs, the focus is therefore primarily on free writing, in order to arrive at one's own modes of expression and reflection.
Basically, the times of the possible events vary from one morning (reading+workshop) to a maximum of five-day writing workshops.
For further information or indicating interest, please do not hesitate to contact us by sending an email to globale@uni-bremen.de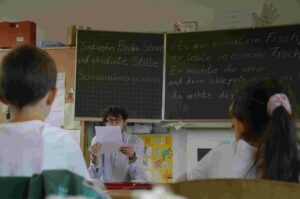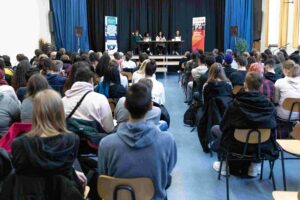 The Junge globale° applies for funding itself, but we are always happy when schools, universities or cultural institutions contribute to the costs, either through the sponsoring association or by applying for additional funding. If you have any questions about funding opportunities, please feel free to contact us.
Voices from the workshops and readings
"I thought the reading lecture was very good because you get to know the experiences of other writers and get an insight into their profession. Also, we could ask him interesting questions about how much success you have with such a profession, how you write." (Feedback on the junge globale° – workshop Matthias Nawrat)
"Very interesting, practical workshop extremely good, introduction and reading also useful to get to know the author first; I wouldn't change anything about the structure, except that you could take even more time for the workshop" (feedback on junge globale° – workshop Matthias Nawrat)
"It was very interesting to talk to a real author of current literature. You could gain a lot of insights into the writing and thinking processes, which then sparked renewed interest in the books and in writing in general. The writing in the workshop was also fun and especially his feedback was interesting because he could sometimes give even new perspectives on the stories. Something like this could be done more often." (Feedback on the young global° workshop Matthias Nawrat)
All
Sponsors
Cooperation partners