23.10. Kirmen Uribe: The prelife of the dolphins / La vida anterior de los delfines, 7 p.m.
In a masterful combination of historical biography and auto-fiction, playing between Bilbao, Manhattan and Budapest, the Basque-born author Kirmen Uribe, who writes in Basque, lays out his text. Through the story of Uri and Nora, the author, who has won numerous awards, deals with migration. In a second narrative strand, he formulates a pacifist counter-proposal to racism and violence in the story of the Hungarian intellectual and feminist activist Rosika Schwimmer.
Moderation: Florian Borchmeyer
German voice: Kristin Schneider
In German and Spanish language
In cooperation with Instituto Cervantes.
In cooperation with Berlin Verlag.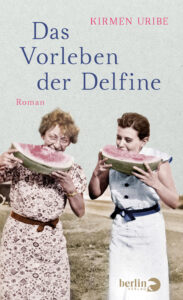 Instituto Cervantes
Kultursaal
Schwachhauser Ring 124
D – 28209 Bremen